Ankündigung - "Bloggin' around the christmas tree" reloaded
Endlich ist es wieder so weit! Letztes Jahr hat mir der Adventskalender so wahnsinnig viel Spass gemacht, dass ich sehr froh bin ihn heute wieder ankündigen zu dürfen!
Dieses Mal machen sogar 48 Bloggerinnen mit, so dass Ihr jeden Tag zwei Türchen öffnen könnt.
Jedes Türchen wird 24h geöffnet sein und es wird tolle Preise, die mit viel Liebe ausgesucht wurden, verlost werden.
Um etwas in Weihnachtsstimmung zu kommen, hört Euch doch nochmal unser Lied an, das so wundervoll von Valerie gesungen wurde. Der Text entspringt übrigens der Feder von Suki von "Honey and Milk".
Bloggin' around the Christmas tree yeah it's make up party time
Open a present every day oh no that's not a crime
Bloggin' around the Christmas tree let the christmas feelings flow
Guerlain and Dior, MAC and NARS, they are making our cheeks glow
You will never get enough of make up, that's okay
Let's enjoy this feeling together if it's nice or stormy weather
Bloggin' around the Christmas tree have a happy holiday
Everyone's happy, we hope you enjoy our christmas give-away
Und hier ist er, der Adventskalender: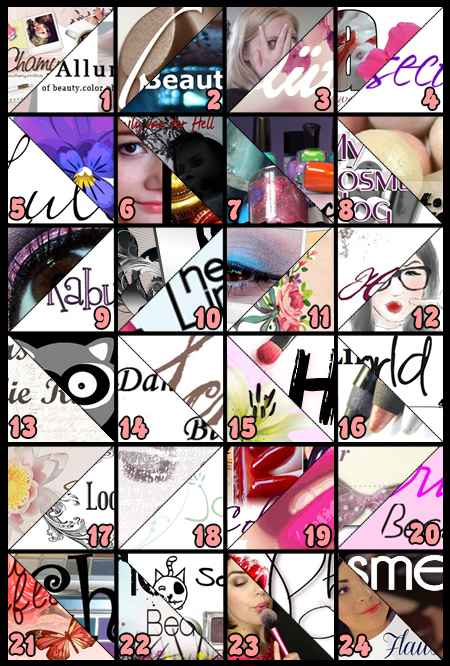 Vielen Dank an Leonie für die Grafik und auch an Frau Kirschvogel für den Banner.
Seid Ihr auch schon so aufgeregt und gespannt, was Euch alles erwarten wird? Also ich bin es!!!